I don't have much to write about today. Nothing really happened. Maybe something will happen tomorrow. Tomorrow is Sunday, so except for 15 minutes of restorative therapy with Lamin, there really isn't much to do on Sunday here unless you like football.

For the first time in twenty years, since I had Seahawks season tickets and saw
Steve Largent
play his last game, my time tomorrow will, in fact, be dominated by watching football. You see, I belong to a fantasy football team organized by
Stranger
writer
Jonah Spangenthal-Lee
. In past years I wouldn't watch any games except Seahawks games, and only if they were ahead, and only after they won a couple games in a row. Most years I will watch the Super Bow, if someone is having a party. And I tend to watch it less for the game itself and more for the commercials. I try to avoid halftime altogether. When Janet Jackson had her wardrobe malfunction, I was in the other room eating dinner with my friends, enjoying a prime rib roast I cooked myself. In past years the Super Bowl has been played on or near my birthday so I have used the game as an excuse to get people together at a someone else's house. Last year I watched the game at the nursing home with a couple other people. The TV at the time was fucked up but big. The picture was fine but the sound was permanently stuck on SAP (Second Audio Program) so last year's game was entirely in Español. few days ago the home have a new
Sharp 42" LCD HDTV
. I will probably watch it here, but it is on the same day that I wanted to talk people into going out for my birthday. None of my friends have a wheelchair accessible house, so right now I have no idea what I am going to do.
Anyway, I had joined the fantasy football league because I didn't have anything better to do and I thought it might be a way of socializing; meet new people. But this group of ten team managers are not a social bunch, at least I haven't been invited to any get togethers.
My team is the Evergreen Stoners and my colors are forest green and snow white. I picture our uniforms looking very much like the NY Jets' except for the giant pot leafs on the helmet and sleeves.
My starting team is this:
QB Tony Romo (Dallas)
WR Randy Moss (New England)
WR Andre Johnson (Houston)
WR Hank Baskett (Philadelphia)
RB Michael Turner (Atlanta)
RB Matt Forte (Chicago)
TE Zach Miller (Oakland)
K Rob Bironas (Tennessee)
DEF San Diego
Hank Baskett is the just the latest of the many under-performing third-string wide receivers I have utilized and Zach Miller replaced Kelen Wislow at Tight End when Winslow went on injured reserve for the season. San Diego is the third defense I've tried, beginning with a disastrous first couple games with the Seahawks. My home town loyalty was outweighed by my desire to win, and like thousands of other fantasy team managers I got rid of them ASAP.
Rookie Matt Forte has been a very welcome surprise at running back. He often accounts for a third of my points. Many of the other managers have offered trades for him, but the quality of the players they offer in exchange bordered on insulting. Forte's presence almost makes up the lackluster performance by Randy Moss, who started the season as the number one wide receiver in the league. It's not entirely his fault. New England quarterback, Tom Brady, got injured and went out for the season in the first game and Brady's replacement hardly ever throws the ball to Moss.
After tomorrow, the top four teams in the Slog's league advance to the playoffs next weekend, then the two winners of those games move on to the Championship game the weekend after that. There is no prize, just bragging rights (not anyone other than the ten of us, care). The Stoners, thru thirteen weeks, are 7-5-1 and currently in fifth place. For me to get into the post season, I have to win tomorrow and either The Slogaholics or the New Orleans Taints (the teams tied for third at 8-5) need to lose. Since they aren't playing each other or the top two teams, the stars have to align just right and I don't like my chances.
Had I not been laid up in the hospital recovering from heart surgery, I wouldn't have missed three consecutive Sundays to make the personnel changes necessary for me to win. Had I at least had my laptop with me, and the internet, I would have known Romo and Winslow were put on injured reserve and I could have arranged for my backups to start. I could probably have prevented the two losses and the tie and instead of being 7-5-1, I could easily be 10-3 and in first place. If I don't manage to make it into the post season, my season will be over. The Seahawks are so bad (not Husky bad, but almost Detroit Lions bad) I probably won't waste my time watching any more games, except the Super Bowl. I look forward to watching it on the new TV. It's very cool and I want one. If Amazon had it on sale for low enough, I've toyed with the idea of buying one next month, but it will probably have wait until I get out of here and into my new place (this is assuming I cash in my retirement).
I am also enamored with the new IPod Touch. One of the residents here, Dwight, was gifted one by his coworkers and he asked me to load it up with some tunes. It only has about 6-8GB of memory so it filled up pretty fast (I left him about a gigabyte of room). If I do buy one I'll get the
32GB version
for about $140 more. I'm not seriously thinking of getting one, but it was very cool.
As usual, the
Slog
was pretty barren with the usual weekend fare this morning. An update on the
Strangercrombie
Auction to benefit
Treehouse
(if I had the money I would really love the
Pizza Glutton Package
). A book review, a recommendation for a play, a recommendation for an author reading their latest work,
Barack Obama's weekly YouTube Address
on, of course, the economy, and a rant by
Dan Savage
about a bad mother. Dan has many pet peeves. These include atrocities that heterosexual parents perform on their children (to disprove the assertion that heterosexual couples are more qualified to raise children), clergy who molest or have affairs with youths under their charges and Christians in general doing something illegal or immoral (to disprove the assertion that people of faith or less depraved than the homosexuals they condemn), pit bulls and their owners (I don't know why, except they are pit bulls and they are scary...they are the Humvee of dogs), and most recently, KOMOTV reporter
Marlee Ginter
(because of her biased expose on a Seattle sex club) and the Daily, the University of Washington's student newspaper, (for writer
John Fay
's
incredibly insensitive and ill-timed opinion peace
in favor of California's ban on same sex marriage, comparing it to bestiality). I agree with Dan on these points. Same sex parents can be as loving as some, and more loving than other heterosexual parents and should be allowed to adopt. People who claim to have faith and rail against anything that seems to demean "family values" often don't practice what they preach. Child molesters are, by far, more likely to be heterosexual. Same sex marriage (what I call "marriage equity" because it sounds less gay) can not be argued against without bringing God into the conversation, and this being America, religious beliefs have no business influencing laws. Pit bulls are scary and I personally I would prefer the breed become extinct. Marlee Ginter is a terrible reporter and possibly a terrible human being (at least she seems to be highly suppressed, sexually). And The Daily is a terrible student newspaper that is poorly written and often has to stoop to creating a controversy just so people are reminded that that stack of unread newspapers are about (this is true of almost every student newspaper in the world). This all true, but their are days where Dan will really beat these subjects into the ground so that there is so much bad news it's hard to find your smile the rest of the day. It also drags the tone of comments down to the point that it is nearly impossible to express an opinion, or a dissenting voice that it is impossible to escape without being personally attacked. Somedays it's so bad you would think you were on the usenet (alt.rec.suckmydickasshole).
Finally, or to be chronologically correct, first there was the Morning News. The only thing that interested me is a story about how
Amsterdam is closing about 50% of the city's brothels and pot bars
(I made a suitably snarky
comment
).
All this writing and I haven't said what I did today. It's Saturday, so not much. As planned I had coffee with Doyle and we hung out for about 90 minutes. Hopefully we'll get together once more before Christmas.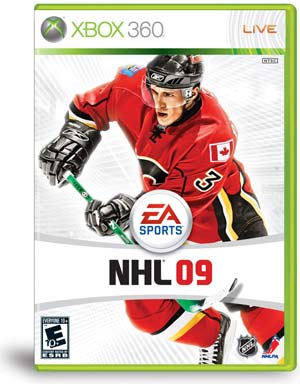 I finally got
NHL09
. I set the game up and went through the training mode twice (I think the last version I played was
NHL93
for the
Sega Genesis
). I then played a quick game as Toronto hosting the Ottawa Senators. The Maple Leafs (me) lost 4-2 but it was a lot of fun. It's a nice change of pace from shooting Japanese soldiers in the face. I worked out with Lamin in the therapy department, we talked about nothing in particular.
While working with Lamin I had the opportunity to say goodbye to Beck, the occupational therapist/temp that I've been working with off and on since Mira left. Today was her last day. Beck has a preference to working with children so will be moving on to a pediatric center somewhere. I didn't get to know her well but I will miss her.
And now here I am laying in bed with not much to write about. Maybe something will happen tomorrow.